See also the Pictures of Cephalonia where the story begins.
As the Romantika draws closer to Ithaca, we see more of it than we saw from Cephalonia:
Heading towards Piso Aetos in the Romantika:
Farewell to the Romantika:
Looking back at Cephalonia from Piso Aetos's tiny beach:
We stayed at Vathi, Ithaca's main town:
View across Molos Gulf to the north part of Ithaca:
Secluded Gidaki bay on the north east of the south part of Ithaca:
We walked from Paliochora (the old capital before it was destroyed by earthquakes and replaced by Vathi) to Dexa beach - here's Iain at the start:
The old churches, which had been left to decay, are now being restored: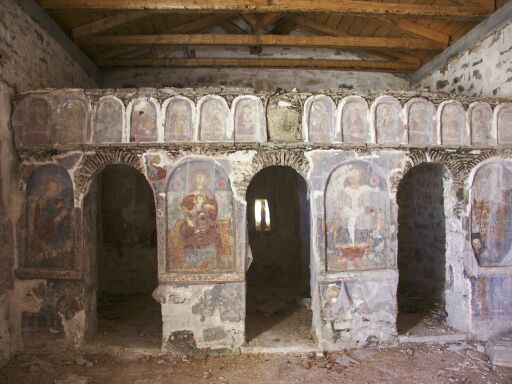 One of two private chapels before the descent to Dexa beach:
At last we made it to Dexa beach. The legend is that this is where Odysseus landed here on his return from his 10 year odyssey. The small island has the unlikely name of Skartsoumbonisi - almost as big as the island itself!
In the evening, Iain and Amanda Peters invited us to their olive groves for a barbecue dinner. Here's Daisy to welcome us:
Harvesting olives with the aid of a handy caravan:
Iain's Olive oil featured at the barbecue:
Walking along the coast of the north part of Ithaca towards Stavros, we found this Olive tree near Lefki:
A chance for hydrotherapy!
Well near Lefki:
Statue of Odysseus in Stavros
Inside Stavros church:
The final long walk was to climb the north island's Mt. Nirito, starting at Kathara Monastery. First a view back to the south part of Ithaca (Vathi on the left side):
The bells in the bell tower at the monastery
Inside the monastery:
Climbing Mount Nirito, looking back at Cephalonia
Made it, Ma! Top of the World! Fiskardo is just visible on the left. I'm wearing a leg brace - since I did the whole holiday with a sprained medial ligament...
On the way down, we stop at Anogi - this is the church there:
The path to Kioni:
Kioni
And the holiday's over - here we are heading back to Sami port on Cephalonia:
A last view of Ithaca:
And the islands seen from the plane home: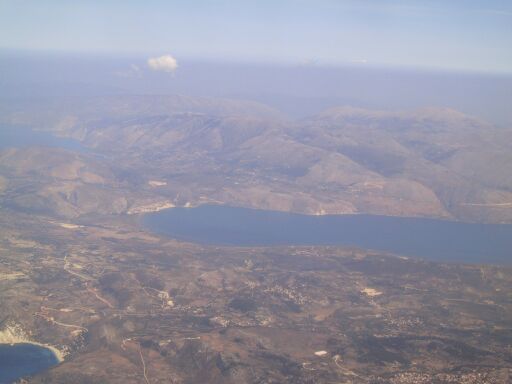 [You can see more of Ithaca here]
Words and pictures (c) Sophie Wilson 2001. Back to the holiday page.