Pictures of Old King Cole (Feb 1999) - in order of appearance:
Star (Sophie Wilson). The land of Make Believe she must roam, until loving thoughts can send her home.
Dirty Dan (Bruce Simpson). Boo! Boo!
Chorus and King (Alastair France). He's merry now, but can he find his Fiddlers Three?
Princess May (Kathryn Dilloway) and Tom (David Papala). In love already? They just met...
Fiddler 1 (Rachel Beechinor), Susie Suds (Mike Papala) and Fiddler 2 (Jamie Stafford). They are strangers to soap and water.
Jester (Josie Osborn) tries to entertain an un-merry King.
Even the Raggy Doll (Niamh Murphy) can't make him smile.
Dirty Dan steals the Fiddler's fiddles! The rotter! But couldn't they see him behind them?
Tom is helped by Star - can he find the missing fiddler?
Tom and May go to Nursery Rhyme land (Kayleigh Conway-Jarrett sings).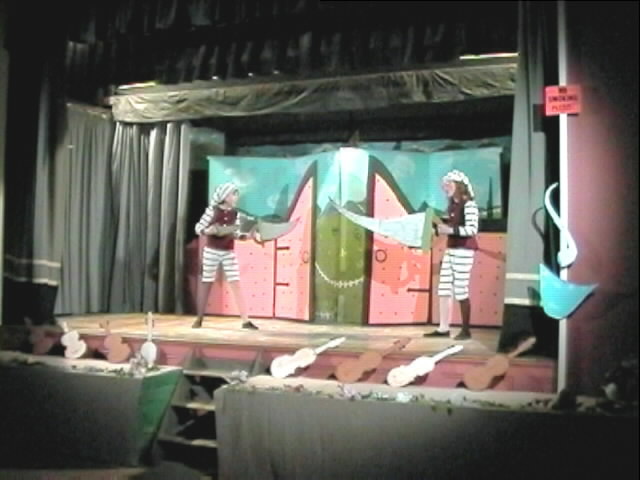 Tweedle Dum (Grace James) fights Tweedle Dee (Nicola Fisher). All for a rattle.
Little Bo Peep (Niamh Murphy) can't find her sheep, even if they wag their tails behind them!
Little Miss Muffett (Hannah Crawley) gets arachnophobia...
Bow Bells (Alexandra Priestley, Josie Osborn, Sarah King, Francesca Priestley, Samantha Conway-Jarrett) chime out a song.
Lavender Sellers (Grace James and Kayleigh Conway-Jarrett) sell and sing.
Will it all end happily????
Page and pictures (c) Sophie Wilson and Harlequins 1999.