Hartington Grove Quaker Meeting Creche
I look after children in a creche at the Hartington Grove Quaker Meeting every Sunday morning. I take the easy lot - those up to about four years old. I've looked after some kids from when they were born to when they left the creche. Here is the creche plus some older children a couple of years ago:
Reading left to right, Erin, just in front of me, was quite young then - she's nearly ready to move up to the next group now, but likes staying in the creche. Rowan, her brother already has moved up. Tommy doesn't come any more. Martin I only saw for a short time and Simon with the demon eyes left me a year ago - I have their younger brother Jonathan now. What are we doing? We're singing "Freedom Train" and doing steam engine motions... And here we are again - a better picture of Simon: we've just done a treasure hunt (for chocolate fingers, Cadbury's naturally, since this is the Quakers) and Simon had cried and cried to come with me instead of his mum!
He was right, though - we were the winning team! I've looked after Martin and Simon's younger brother Jonathan since he was born - he's three and a half now. Here he's about a year old and waiting to get chocolate everywhere after dad Kevin has helped Simon blow out the candles:
:
Erin watches the camera, Isobelle plays on...
Camera shy? Not I - hey, this plastic fork tastes nice!
Wabbit. Not quite as big as Isobelle...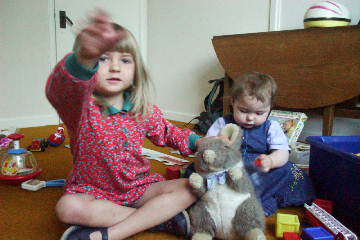 Here's Isobelle in May 2000:
Matthew, Oliver, Jonathan, Isobelle "do cooking":
Page and pictures (c) Sophie Wilson, Elizabeth Rolph, 1997, 1998, 1999 and 2000.