A word from our chairperson, Priscilla Barret: "In 1998 a Village meeting decided that we should celebrate the millennium with something intangible but very valuable - a build-up of community spirit. This Fun Day is the climax to 18 months of hard work, happy events, good fun and good fund-raising. We welcome everyone, and hope you have a really good day."
Committee: Priscilla Barrett, Sue Hodgson, Sue Kempster, Liz Mitchell, Jasper Robertson, Julie Sale, June Shrubbs and Tessa Shrubbs.
Zones:
Red Herrings (Fassage Close, Abbey Lane, Lode Road, Church Walk, Quy Road)
White Doves (Fairhaven Close)
Blue Birds (Northfields, Swaffham Road, Millards Lane)
Green Adders (Station Road, Willow Grove, High Street)
Black Fen Tigers (Mill Lane, Lode Fen)
Yellow Hammers (Longmeadow)
And now, on with the show... A not-so-sunny, drizzly, cool summers day at Broughton Hall:
Parade of Floats
Blue Birds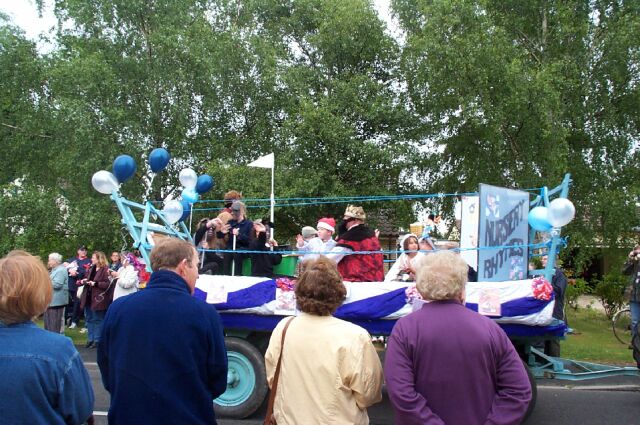 Yellow Hammers
Black Fen Tigers
Red Herrings
Green Adders
Opening by Lady Fairhaven
Dog Show
A capacity crowd watches the 3-legged race
Junior 3 legged race
Senior 3 legged race
Junior sack race - that first corner's a problem!
Senior sack race - that first corner is just as bad...
Big foot race
Tug of war
And then, in the evening, dancing to The Haymakers
Surprises for those who'd helped
We didn't let the weather spoil it!
(Note: I've many more pictures - I took 90 - and have full size masters of those shown - please get in touch!)
Back to the main Pictures of Lode page.
Pictures (c) Sophie Wilson, 24 June 2000.