I live in Willow Grove:
I'm on the north edge of the village, so if I walk north, then I'm in the fens immediately:
The trees are those at the back of my garden, the lode (stream) flows sluggishly along. If I look north from the bridge here, you see:
"Very Flat, Norfolk" was Noel Coward's opinion. Perhaps he meant the East Anglian Fens?
Walk north and you run out of trees fast! The lode and the road run along together.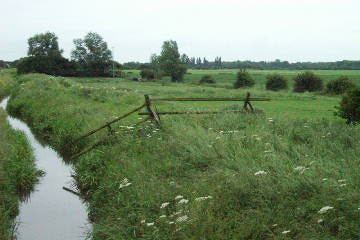 Third bridge over the lode, looking back towards Lode (above). Those tall poplar trees on the skyline are it. Turn and face north again (below), and the road and lode just go on again. To the right is White Fen Droveway - clay makes the fields white - there are black fens, too.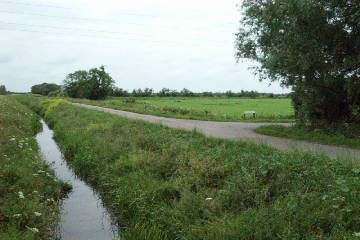 Keep walking (around 45 minutes from my house), and you finally reach the bend in the road:
Fen Farm is forward, the road goes off right. This is the last bridge until the lode reaches the river Cam at a lock.
This walk-with-camera stopped at the bridge, since it was very muddy that day (it was a bank holiday, so of course it rained a lot), but you can walk along the bank of the lode, north to the Cam.
The path through the fields is in the green on the left - cows and sometimes horses make the muddy field more interesting!
Back to the main Pictures of Lode page.
Page and pictures (c) Sophie Wilson 1999.