Starting at my house, I can walk south into the village proper:
This is the main street through Lode variously called Station Road (this bit), The High Street and Lode Road. The picture above looks north (Willow Grove is on the left) - the road becomes the lane followed in the walk up the lode stream above.
Go round a slight bend and look south - here (above) the street has become The High Street, though you can't really tell. The block of houses includes the Post Office which is at the centre of the village, run by Steve and Val Clarke (there's a picture of Steve on the Lode Fete set). Eagle eyed viewers can just see a gap on the right (below the blue car, opposite the pink house) which is Mill Road.
Here we are at the top of Mill Road. Ah, the wonders of thatch - I'm glad I don't have to knit a roof like that!
Mill Road leads us to the Mill, which is at the NE corner of Anglesey Abbey. You can see it for free from here, but have to visit the Anglesey Abbey gardens to see inside the Mill, with all its restored wooden machinery. See other pictures of the Mill here.
Here's the big line of Poplar trees that makes Lode stand out from the distance (I couldn't fit the tallest ones into the shot very well - they're on the right). The white blob is the Mill again.
Anglesey Abbey from the back. Above the Mill, the lode stream is bigger and slower.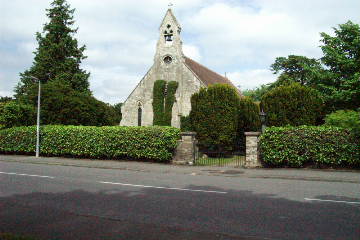 Back in Lode High Street, and a bit further south again, here's St James' Church.
Inside St James'.
Leaving the church and continuing to the far end of the High Street, looking north into the village (that pink house again, with the Post Office in white at this end). The church is behind the trees on the right. We've come to a zigzag bend in the road (which floods when it rains a lot).
Round the bend we get more thatched cottages.
And some more. Of course, Lode also has buildings with tin roofs, and they're less photogenic, so you won't see them here.
Broughton Hall, a gift of the Lord Fairhaven (owner of Anglesey Abbey) to the village.
The view up Lode Road into the village. That's all...
Back to the main Pictures of Lode page.
Pages and pictures (c) Sophie Wilson 1999-2001.