My camera technology has again moved on - for the holiday in Cephalonia and Ithaca, I took a 5megapixel Minolta DiMAGE 7, a 3megapixel Canon PowerShot S20 and 1.6GBytes of storage (1GByte Microdrive, 340MByte Microdrive and some compact flash cards). I shot 426 pictures on the D7 and 87 on the S20 during the week - only around 1GBytes worth!
We went to Fiskardo at the north of Cephalonia, where we stayed in Athanasia's Pension:
Just the place to relax:
Breakfasts were enjoyed by all, especially the wasps who joined us every morning throughout the holiday:
Fiskardo is very pretty - you should go there yourself, since the following pictures only hint at it: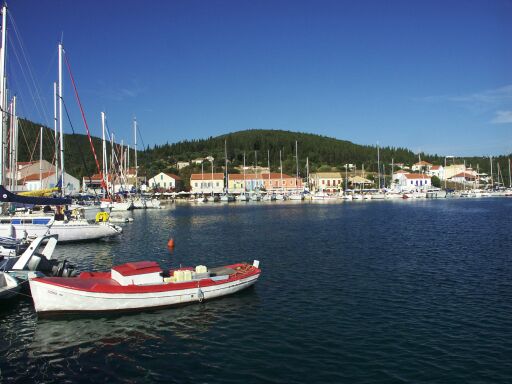 We went for a walk around Fiskardo, where we saw Fiskardo's old Byzantine church:
Fiskardo's old and new lighthouses are also on the Fournias headland:
From the coast, you can see the beautiful colours of the Ionian sea and neighbouring islands:
Cephalonia is made of limestone, here some molten rock fell into the sea and the limestone built up around it:
The pretty beaches are made of stones:
While waiting to dry, you can play the game of building a tower, placing only one stone upon another. Bricky John managed 15:
The Romantika took us to a long walk across the width of Cephalonia: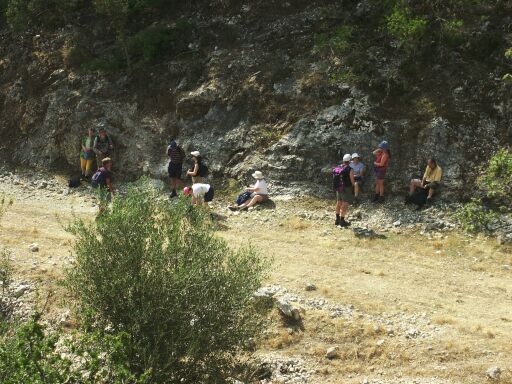 With difficulty, we gained height on Cephalonia, with views back to Ithaca behind us.
After a long hot morning, we reached the top point of our crossing - Karia:
The way down:
At last we can see Asos - we've crossed the island!
Even on a hot afternoon, Cephalonia's beauty takes your breath away:
Iain Peters leading the way:
Asos, with Asos Castle on the hill across the bay:
Asos from above:
Finally, the Romantika took us away from Cephalonia:
The end of our stay on Cephalonia as Fiskardo fades into the distance behind us:
See the Pictures of Ithaca where the holiday continues!
Words and pictures (c) Sophie Wilson 2001. Back to the holiday page.